Ephrem Frystak, Waiter (rival)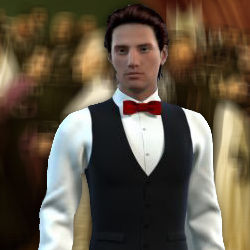 Ephrem Frystak was an imperial cadet that got kicked out of the academy for being Absent-minded. He then joined the Ancillary corp and became a notorious Waiter, attending important events and serving important people, like Grand Moff Leonis and Cie during the Episode 8: The Galactic Race.
Ephrem knew Kaine at the academy and is always ready to help him out!
(GM)
Ephrem is a contact of Kaine (made by using his "contact talent").
motivationpersonality: Absent-minded
Your character is extremely clever, with the right joke for a friend and the perfect insult for a foe. Some may love their company, while others loathe their cutting remarks, but none can deny that your character has the sharpest tongue around.
This could be addiction, fascination, obsession, or another automatic behavior that is self-destructive or otherwise impedes your character's ability to function and be healthy.