Claudette Mauve Malasky (RIVAL)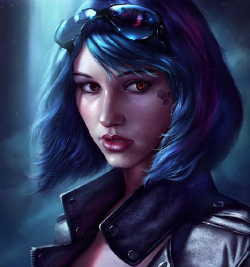 Claudette "Mauve" Malasky, called M&M, is the captain and pilot of the Scalvenker!
The Scalvenker's crew is part of Captain Naarlock's pirates band.
Your character's mind is like a computer, able to absorb a barrage of information and come to a logical conclusion. Your solutions always have the inarguable weight of reason, and you know how to pick your battles and when to bide your time.
She is highly intolerance against all political groups like the Empire or the Rebel Alliance.